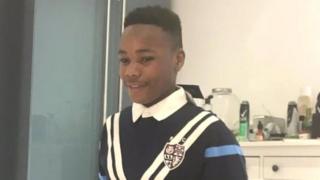 A man has been jailed for murdering a 14-year-old boy in a targeted "violent and frenzied" attack.
Jaden Moodie was knocked off a moped and repeatedly stabbed by rival gang member Ayoub Majdouline in Bickley Road, Leyton, in January.
The drug dealer was found guilty of the murder on 11 December after his DNA was found on the murder weapon.
Majdouline, 19, of Wembley, was sentenced at the Old Bailey to life with a minimum term of 21 years.
Jaden was the youngest murder victim in London this year.
Sentencing Majdouline, Judge Richard Marks said he could not "ignore the evidence" about Jaden's drug dealing and other criminal-related history.
"That he became so involved starting at the age of 13 is truly shocking but none of that means he deserved to die, still less in the circumstances in which he did," he said.
Majdouline was one of five men linked to the stabbing who drove around east London in a stolen Mercedes looking for members of a rival gang to attack on the night of 8 January, the court heard.
The group, linked to drug gang the Mali Boys, had covered their faces and two of them, including Majdouline, wore yellow rubber gloves to avoid being identified.
The killing was caught on graphic CCTV, which was shown at the trial.
Once the group spotted Jaden, he was knocked him off his moped by the car.
Gang members then got out of the car and stabbed him while he lay on the ground.
Jaden, who was dealing drugs for rival gang the Beaumont Crew, suffered nine stab wounds and bled to death in the road as the attackers ran back to the car and sped off, the court heard.
In a victim impact statement, Jaden's mother Jada Bailey said her son was a "loving and caring, family-orientated little boy" and described his murder as "barbaric".
Ms Bailey said she felt "let down" by organisations she had turned to for help.
She told the BBC she had complained to social services about her son being groomed by gangs, and moved 140 miles from Nottinghamshire to Waltham Forest in east London to escape trouble.
"No parent should have to bury their child before themselves," she said.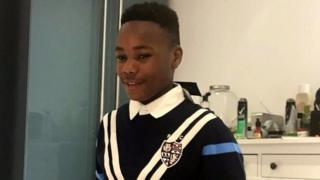 A man accused of murdering a 14-year-old boy sold drugs for a London gang so he could "survive", and would carry a knife for "safety", a court has heard.
Jaden Moodie was knocked off a moped and stabbed to death in Leyton, north-east London, on 8 January.
Ayoub Majdouline, who is accused of being one of five men who carried out the attack, told the Old Bailey he had sold drugs since he was 16 years old.
The 19-year-old, from Wembley, denies murder and possession of a knife.
The court has been told Jaden was selling drugs for the Beaumont Crew, also known as Let's Get Rich, when he was attacked by a group of men who were looking for a rival gang member to attack.
Jurors heard Mr Majdouline had a troubled upbringing in Leyton and his parents had split up when he was seven.
While living with his mother, he was abused by his stepfather so went to live with his aunt, the court was told.
However, that relationship broke down and he ended up in foster care. His father also died in 2015.
The court was told he had been identified as a victim of modern slavery by the National Crime Agency (NCA) over concerns he was being exploited by older youths.
Giving evidence, Mr Majdouline said he sold drugs "for and with" the Mali Boys gang, including as part of county lines dealing in Basingstoke, Ipswich and Andover.
He told jurors he was previously jailed for drug and knife offences but went straight back to dealing "to survive"
"At the time I did not feel like I was being supported by social services and I never lived by myself before," he said.
He added that he got "confused" sorting out jobseekers' allowance when he turned 18 and dealing had been "the only way I knew how to make money".
Explaining why he carried a knife, Mr Majdouline said he had been "sliced" on one occasion in Basingstoke so carried a blade "for my own safety".
The trial continues.
pigeon pest control hampton hill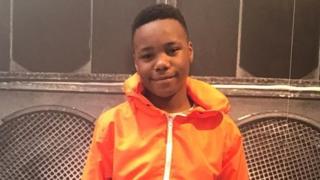 A 14-year-old boy was knocked off a moped and then stabbed to death by a rival gang in a "violent and frenzied" attack, a court has heard.
Jaden Moodie was allegedly dealing drugs for a gang when he was targeted by a group of five men on 8 January.
Ayoub Majdouline was in a stolen Mercedes which was driven at the victim, causing him to be "catapulted" over the bonnet, the Old Bailey heard.
The 19-year-old, of London, denies murder and possession of a knife.
Prosecutor Oliver Glasgow QC told jurors the five men in the car had armed themselves with knives and had gone to "great lengths" to hide their faces.
"On finding Jaden Moodie, the Mercedes drove straight towards the moped, swerving onto the same side of the road so that it struck Jaden Moodie head on," he said.
He told the court the victim "did not stand a chance" and his crash helmet had come off when he was struck.
Three men then got out of the car and "repeatedly" stabbed the 14-year-old in a "violent and frenzied attack", as he lay "defenceless and seriously injured" on the ground, the court was told.
"Fourteen seconds was all it took," Mr Glasgow added.
Jaden was found with nine stab wounds and bled to death in the road, the jury heard.
'Petty rivalries'
Members of the victim's family gasped and cried out as CCTV footage of the attack was played to the jury.
The prosecutor said the images showed the killers had "no qualms about playing out their petty rivalries using the blade of a knife".
The Mercedes was abandoned in a quiet cul-de-sac, while a knife and a pair of yellow rubber gloves were thrown away and recovered from a nearby drain the next day, the court was told.
Mr Glasgow said the 14-year-old's blood and traces of the defendant's DNA were found on both.
Burnt clothing belonging to Jaden's attackers was also found in a churchyard, the court was told.
Mr Majdouline disputes playing any part in the attack.
The trial continues.
residential pest control services